Energy Technology Seminar - ZET Seminar series started successfully
Bayreuth, July 26th, 2019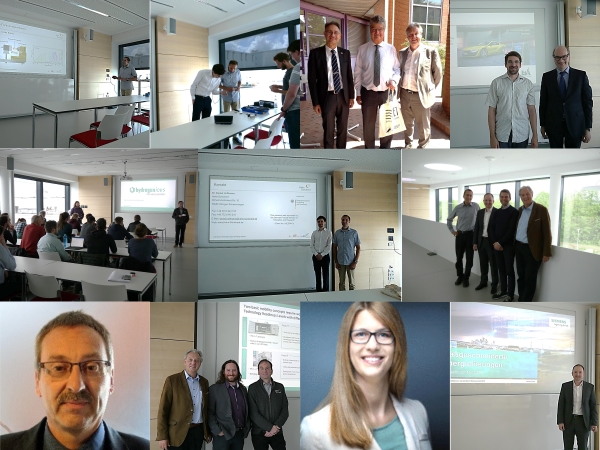 Every year, high-ranking speakers from the industry and science are invited to the Energy Technology Seminar at the University of Bayreuth to give advanced students an insight into current projects and research areas of energy technology. The various speakers present projects, research topics and applications from the fields of biological, chemical, electrical and thermal energy technology.
The seminar is organized by the Center of Energy Technology (ZET). The seminar is open to all ZET staff members and guest speakers to inform themselves about current developments in the field of energy technology and to receive interdisciplinary scientific input for their own research.
This year's lectures ranged from sector coupling and storage technologies to novel high-voltage transmission technologies and took place from 15th May to 17th July 2019.
Advancing the energy revolution with hydrogen - The LOHC technology
Dr. Caspar Paetz, Hydrogenious Technologies GmbH
Sector coupling
Andreas Schmuderer, Siemens AG
Energy efficiency by means of energy management - optimization approaches
Michael Müller, Rauschert Heinersdorf-Pressig GmbH
Environmental advantages of used e-vehicle batteries as stationary storage in the Smart Grid network
Dr. Jürgen Kölch, EVA Fahrzeugtechnik GmbH
Current developments in high-voltage direct current transmission
Dr.-Ing. Herbert Gambach, Siemens AG
Energy Monitor and local electricity markets
Katrin Gugel, Bayernwerk AG
Storage technologies for the energy systems of the future
Prof. Dr. Maximilian Fleischer, Siemens AG
Kinetic Energy Harvesting Systems - Technologies and Applications
Dr. Daniel Hoffmann, Hahn-Schickard-Gesellschaft für angewandte Forschung e.V.
The ZET would like to thank all speakers and is looking forward to the next seminar sessions with equally informative and interesting presentations.